On request, cast and VA housings are mainly created with tremendous reliability as one-off productions from the idea, continuing with the development and right up to manufacturing. NTG recently invested in an ultramodern turning/milling centre from DMG to manufacture them. To make sure that the DMC 210 FD can utilise its capacity as flexibly as possible, NTG chose a DURO-TA XT manual chuck from Röhm. The latest chucks from Röhm with an impressive 1200 mm diameter are characterised by their compact design, workpiece accessibility and flexibility despite their size.
Manufacturing cast and VA housings at NTG Gelnhausen
Workpiece: Cast and VA housings
Task: Machining large and small workpieces with frequent changes
Solution: 3-jaw manual chuck with quick-change system DURO-TA XT 1200 mm
Customer benefit: Possibility to change from large to small workpieces in just minutes. High clamping force and radial run-out accuracy, low deadweight - and all of this with a diameter of 1200 mm

with long guideways for a large clamping range and maximum flexibility, with high clamping forces, highest concentricity, lightweight design in favor of higher workpiece load, designed for vertical use, reliable long-term repeatability, in size 250-1250; up to 290 kN
---
IWC Schaffhausen manufactures watch boards with a RÖHM power-operated index chuck in just one clamping position
To guarantee a high standard of process reliability and repetition accuracy, IWC Schaffhausen uses the ultra-compact 5-axis machining center KERN Micro for the operation. In this machining center, the prizewinning power-operated index chuck from RÖHM's Micro Technology series is installed. The index chuck enables doublesided machining of boards without changing the clamping position. This makes it possible for IWC to achieve maximum precision and repetition accuracy in just one clamping position with dozens of machining steps and any number of tool changes being involved.
Application report: plates processing IWC Schaffhausen
Workpieces: Watch plates
Task: Process reliable and repeatable clamping for precise and doublesided machining of boards
Solution: Power-operated index chuck KPF-MT
Customer benefit: Highest precision and reduction of set-up time thanks to doublesided machining of boards in just one clamping position
This customer requirement had been solved with: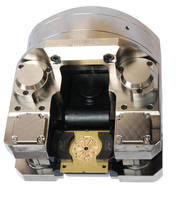 Power-operated index chuck KPF-MT
More information about the power-operated index chuck KPF-MT or other clamping solutions of the Micro Technology series you can find here:
---
GMN Paul Müller Industrie GmbH manufactures spindles for machine tools as custom manufacturing at the highest level. To do justice to this claim in its own manufacturing in Nuremberg as well, the manufacturing specialists rely on the long-lasting and precision clamping devices from Röhm.
Application report GMN Paul Müller Industrie GmbH
Workpiece: Metal mandrel catridges
Task: Clamping of mandrel catridges for milling processing
Solution: RÖHM NC-Compact self centering vice RKZ with customized jaws
Customer benefit: Because of the 3-sided machining, manufacturing of parts with just one clamping process is now possible.
without power transmitter for clamping with greater pre-tensioning with a constant clamping force and high repeatability, up to 25 kN and 269 mm opening