Power vices
For efficient, centric clamping on milling machines or machining centers up to 55 kN and strokes up to 18 mm
The KZS is a centric vice, which can be clamped hydraulically or pneumatically depending on the model, and is mostly used in a machining center. It is used for stationary, centric clamping of round or angular raw workpieces, which are then usually machined. It is mainly loaded system in the machining center automatically by a robot or gripper. It prevails over comparable products by the combination of a high clamping force, large jaw stroke and low interference contour.
Two interfaces are available for the jaw connection: the proven tongue and groove for a fast jaw change always with the same position, or with 1.5 x 60° serration for flexibility. The vices of the KZS series can be optionally configured with integrated, inductive stroke sensors. They are used for clamping control and enable optimum process monitoring for the highest process reliability.
The connections are geometrically the same as for Schunk clamping force blocks.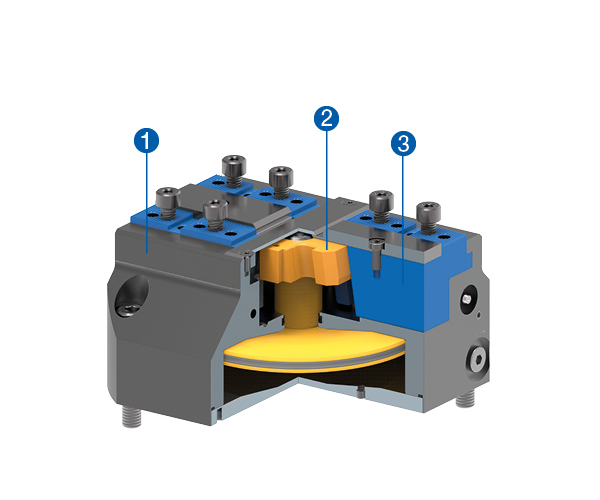 1: Reduced interference contour for the best-possible accessibility
2: Wedge hook system with integrated pneumatic actuation for high load capacity
3: NEW: Higher clamping forces and enlarged clamping range due to larger jaw stroke
---
pneumatically actuated with a large stroke, up to 21 kN clamping force and 18 mm jaw stroke
hydraulically actuated with a large stroke, up to 50 kN clamping force and 18.2 mm jaw stroke