为了保证铣床和加工中心能够零故障运行,工具夹紧系统必须定期润滑。润滑夹紧套可以保证工具始终按照工艺要求以恒定的夹紧力被安全夹紧。已经注册专利的Lubritool®润滑工具只需5秒便可完成自动润滑。
目前,通过手工润滑完成保养需要花费数分钟。为了让这种繁冗成为过去时,RÖHM研发了Lubritool®润滑工具。它会从机床中控获取正确的时间点,直接从工具库中及时换上,并在数秒内为夹紧套涂抹理想剂量的润滑剂。
工作方式
Lubritool® is located in the tool magazine.Whenever the machine control notifies thata lubrication process is necessary, Lubritool®will be sent up into the spindle.
The lubrication impulse is automatically acti-vated within the spindle. An optimal quantity of Lubriflux lubricant is sprayed onto the right place of the tool clamping system.
After the lubrication process, Lubritool® issent back to the tool magazine and remainsthere until the next lubrication cycle.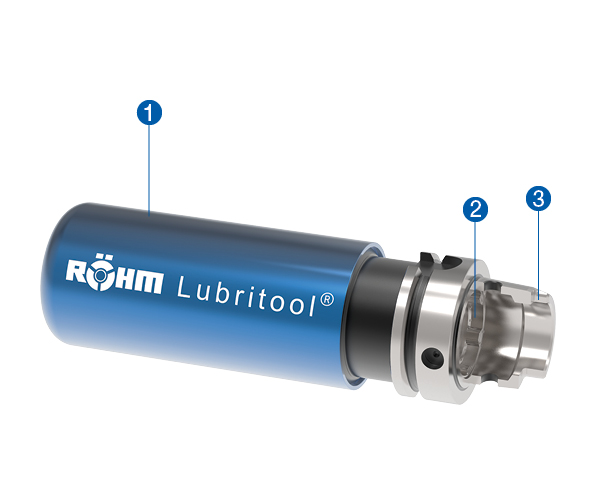 1: Schutzhülse für Lubriflux Fettkartusche
2: Optimale Verteilung des Schmiermittels am Spannsatz durch Verteilerring
3: HSK-Aufnahme
---